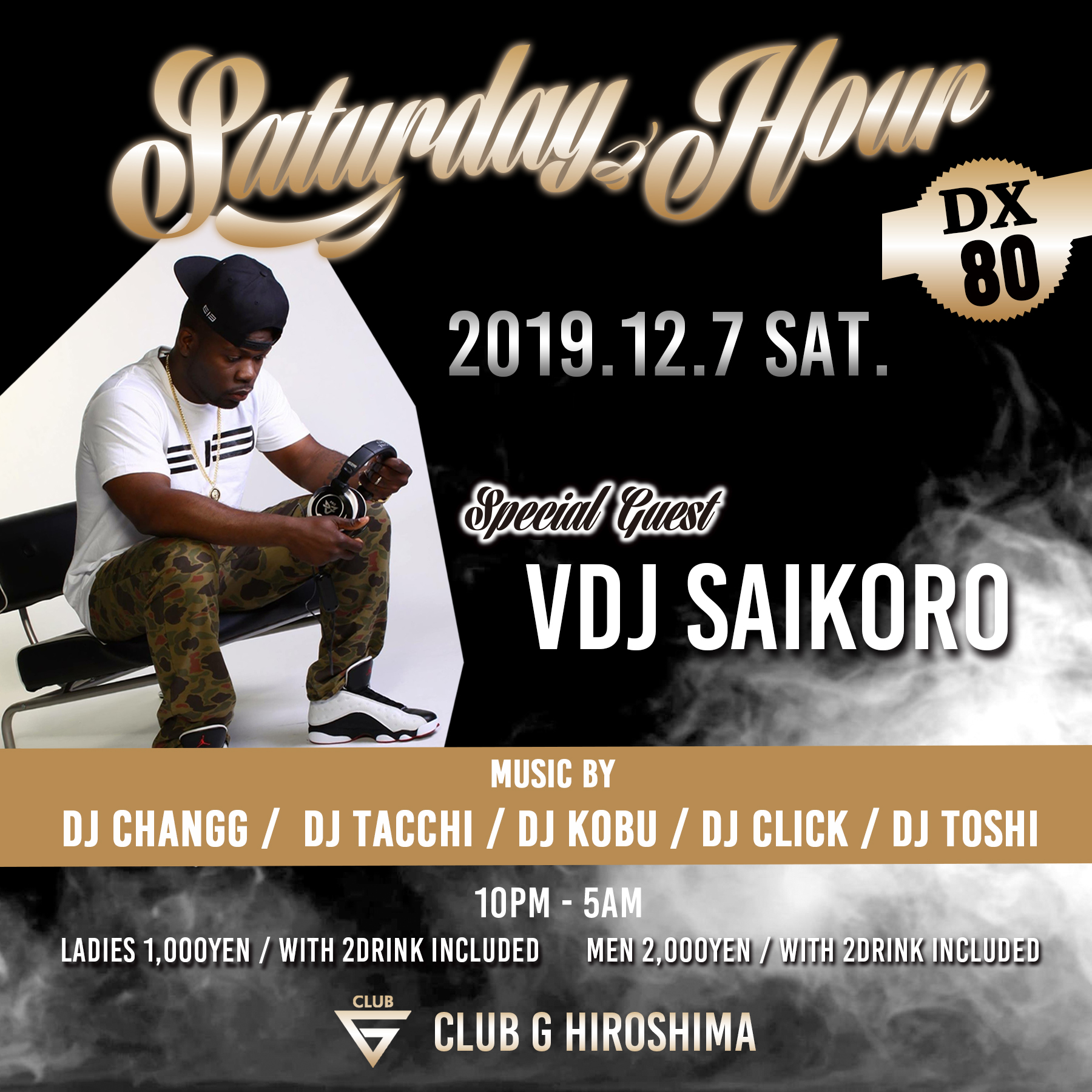 2019.12.7 Sat. 土曜日
"Saturday Hour DX vol.80″
Special Guest:VDJ SAIKORO
広島土曜鉄板King Of Party!
No.1 ‬King Of HipHop Party in Hiroshima!
at club G hiroshima
2019.12.03
|
Hip Hop
|
Open Format
|
Saturday Hour
|
Guest
2019年12月7日土曜日 at club G hiroshima
Saturday, December 7, 2019
広島毎週土曜日鉄板King Of HipHop Party!
No.1 ‬King Of HipHop Party in Hiroshima!
"Saturday Hour DX vol.80″
Special Guest
VDJ SAIKORO a.k.a DICE
Music by
DJ CHANGG
DJ TACCHI
DJ KOBU
DJ CLICK
DJ TOSHI
10PM – 5AM
Entrance fee
LADIES 1000yen / with Two drink included.
MEN 2000yen / with Two drink included.
女性 1000円/2ドリンク付き
男性 2000円/2ドリンク付き

【VDJ SAIKORO】
He been DJing for over 17 years.
VDJ SAIKORO very experienced in my craft.
Here are locations at where I have played:

2002-2004 Sasebo 佐世保
2005-2006 San Diego サンディエゴ
2006-2009 Fukuoka 福岡
2010-2014 Los Angeles ロサンゼルス
2015-2018 Okinawa 沖縄
2019 Yokosuka, Roppongi, Shibuya 横須賀、六本木、渋谷

During these time frames "VDJ SAIKORO" have DJ in many clubs such as : 出演ナイトクラブ
E Club SASEBO, E Club IWAKUNI, Club Cave OKINAWA, Club Seven OKINAWA, Mexicana, Party Bar OKINAWA, Line Club ROPPONGI, IBEX ROPPONGI, Harlem SHIBUYA, 54 YOKOSUKA, Club Yolo IWAKUNI, Club G HIROSHIMA, A Club YOKOSUKA, Area Asia OKINAWA, AMBER OSAKA, BC TRIP OKINAWA etc;

VDJ SAIKORO DJ style is mainly HipHop, R & B, AfroBeat, Reggae, Top40 and Old School. I'm also capable of doing Video DJ. My equipment is MacBook Pro (Mojave) with Serato DJ.

These are some of the artiste that I have worked with : 共演アーティスト
Trinidad James, Eric Belinger, E40, Jonn Hart, Honey Cocaine, DJ ENVY, DJ Markdaspot, Blac Youngsta, Kehlani, Dorrough, Desiigner, Hit Boy, AWICH, SALU etc.
※入場年齢制限は女性18歳以上、男性20歳以上になります。
公的機関発行の顔写真付き身分証明書をご提示ください。
過度の軽装はご入場をお断りする場合がございます。予めご了承ください。
Please follow and like us: